A unique trail experience
Imposing views, wide plateaus, a unique nature experience and trails in all facets - that sounds like something out of a fairy tale? Here at the Reschen Pass you can discover all this!
The majority of our single trails are natural! The new, particularly playful flow trails can be easily mastered by beginners and even put a big grin on the faces of professionals. Step up your game: Every ride opens up new possibilities for natural progression. True to the motto: Pre-ride | Re-ride | Freeride!
Thanks to our 5 cable car rides, the trails are easily accessible and ideally suited for all age groups as well as for all skill levels. Whether you are a relaxed nature lover or on an action-packed trail adventure - the 3 country Enduro Trails will inspire all mountain bikers, to never let you go!
Who doesn't dream of trails that whirl from alpine surroundings along almost dramatic-imposing mountain backdrop, over countless metres of altitude along lakes and intact natural landscapes to the coffee break in the valley? Our technically challenging trails with legendary root and rocky passages, fast flow trails and jumps can be conquered as a unique trail adventure with over 1,000 metres of altitude decent in one run. Due to the grippy, stable and natural elements in our soil, it is possible to ride sustainably on our trails.
Trails in all facets for all skill levels
from "hero dirt" to "loose",
from roots to flowing
fast and direct or playful and endless.
from rookie to pro
"flat out" or "chilled out", nice and easy
from family to weekend warrior
Whether Tip of the top or Flow Trail,
oldschool or newschool
Wether you're an enduro rider, all-mountain or XC-biker,
or E-MTb or Bio-Motor.
WELCOME to the 3-country Enduro Trails!
The 3-country Enduro Trails carry you from sub-alpine surroundings at almost 2500m above sea level - past an almost dramatically imposing mountain backdrop, over high plateaus and alpine pastures, through pine forests or along lakes, on often historic and spectacular trails down to the valley floor at 1.400m. Mountain biking is part of our culture and it makes us proud to develop and maintain a world-class trail network.
Get SMART - this is how to stay safe on the 3-country enduro trails!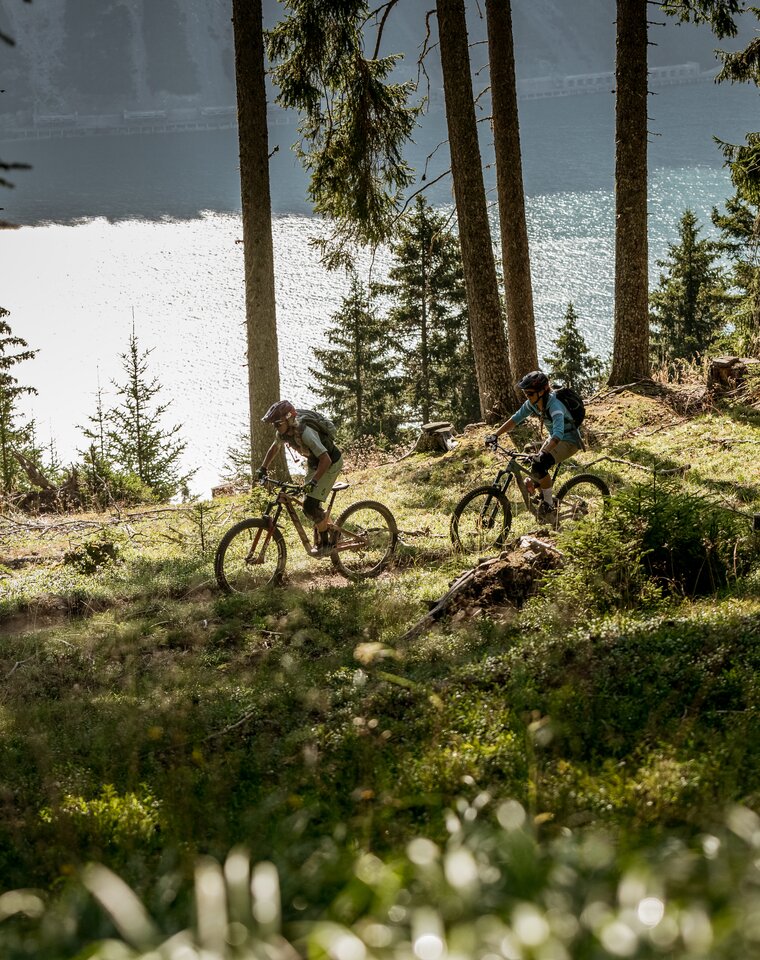 Signature Trail - Zirmtrail
Singletrail Level Skala
S0 | Green
Riding technique: for trail beginners, basic mountain bike riding technique required - basic position, balance, safe braking technique, little to no trail experience
Danger: falls from low heights into relatively safe terrain possible, no danger of falling
Obstacles: none
Gradient: very falt, average < 9%, max. 15%
Curves: long, wide, flat curves and curve run-outs
Trail width: min. 1 metre
Jumps: none - very easy to roll over
S1-S2 | Blue
Riding technique: for trail beginners and advanced riders! Advanced mountain bike riding technique required: good balance, weight shifting to overcome obstacles, step riding, safe cornering and braking technique, possibly jumping technique, trail experience required.
Dangerousness: falls from great heights into relatively safe terrain possible, no danger of falling
Trail conditions: uneven surface, grippy ground with occasional roots and stones
Obstacles: small steps
Gradient: flat - average < 12%, max. 30 %
Curves: narrow, but easy to negotiate with long, shallow curve run-outs
Trail width: narrow, min. 0.6 metres
Jumps: variant possible for experienced riders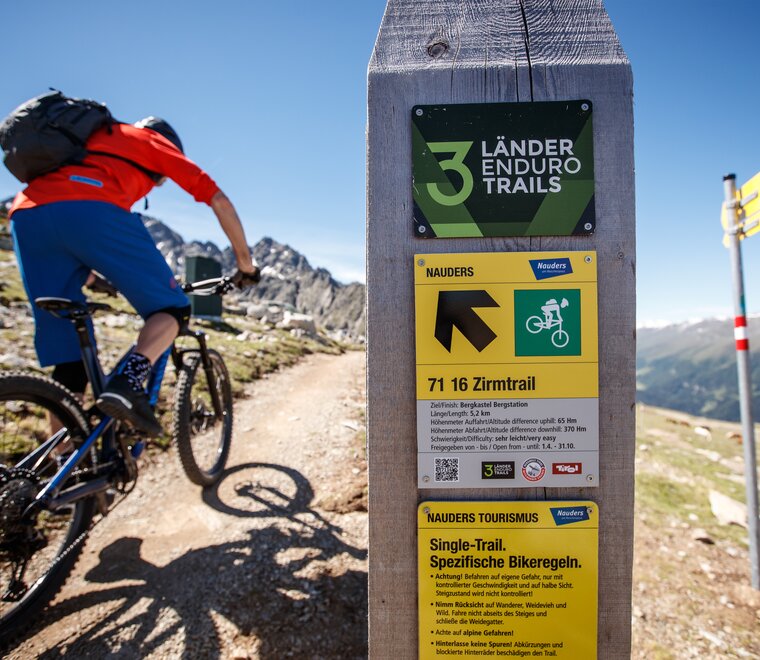 S2-S3 | Red
Riding technique: for advanced trail riders! Special mountain biker riding technique required, very good balance, weight shifting to overcome obstacles, step riding, safe cornering and braking technique, hairpin turns, basic jumping technique, trail experience required!
Danger: Falls from greater heights into dangerous fall terrain possible, no danger of falling
Trail conditions: partly loose, quickly changing ground with roots and stones
Obstacles: short succession of steps and stairs
Slopes: very steep, average < 20%, max. 60%
Curves: very tight and stiff curves and curve run-outs
Trail width: very narrow, min. 0.3 metres
Jumps: cannot be rolled over, but can be avoided
S3 | Black
Riding technique: for trail experts! Excellent mountain bike riding technique required: excellent balance, weight shifting to overcome obstacles, step riding, safe cornering and braking technique, hairpin technique, trail technique, jumping technique, a lot of trail experience required!
Dangerousness: falls from great heights into dangerous fall terrain possible, caution danger of falling, danger of life!
Trail conditions: partly very loose, quickly changing surfaces with root carpets and large stones
Obstacles: very high, short successive steps and stairs
Gradient: extremely steep, average < 20%, max. 70%
Curves: extremely steep and narrow curves and curve exits
Trail width: extremely narrow - min. 0.2 metres
Jumps: cannot be rolled over, cannot be ridden around